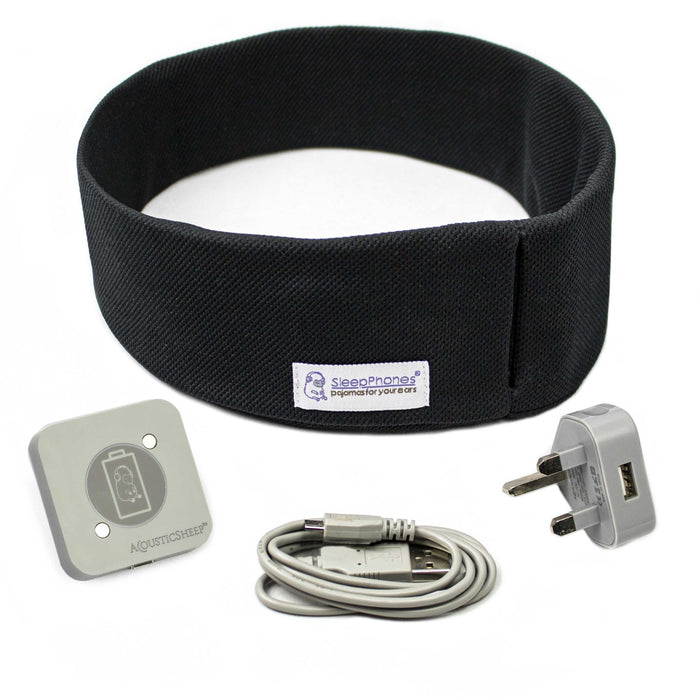 SleepPhones Effortless Bluetooth Sleeping Headphones with Wireless Induction Charging
Save

£0.00
Save

£-149.95
Original price
£149.95
-
Original price
£149.95
Description

Features

Specifications

Reviews

Size Guide

Shipping
SleepPhones® Effortless V8 are luxuriously comfortable sleeping headphones with premium sound quality making listening to audio in bed a dream. They use Bluetooth® technology with induction charging* for a completely wireless (and effortless) experience.

Available in Breeze SheepCloud fabric. Breeze SheepCloud fabric is lightweight, soft and stretchy, which keeps you cool and dry.

Benefits:
Fall asleep faster, stay asleep longer, and wake up refreshed
Get a good nights sleep naturally, without medications
Reduce ambient noise, conversations, traffic sounds, and snoring
Relieve stress and reduce noise by listening to your favourite tunes, soothing meditation sounds, radio, sleep-enhancing rhythms, audiobooks, or any other preferred music
Magnetic induction charging allows you to charge your SleepPhones® Effortless simply by placing the headband with Bluetooth® module inside, onto the charging base*.
Sound: Superior sound quality with eco-friendly, lead-free electronics
Charging: Induction charging base* included
Bluetooth®: Easily pair/sync with Bluetooth®-compatible devices and stream audio wirelessly within 15-30 feet (5-10 meters)
Controls: Volume and play/pause controls built into the Bluetooth® module
Headphones: Removable speakers in a hypoallergenic, machine-washable fabric headband
Bluetooth®: AAC

Bluetooth® 5.0

Wireless Range: 15-30 feet (5-10 meters)
Rechargeable Battery: Full charge lasts up to 24 hours
Charging Time: 4 hours via induction charging base*
Frequency Range: 20Hz-20kHz
Compliance: CE, UKCA, RoHS, FCC compliant
Safety: Ultra-low power, safe RF emissions
Made in the USA from globally sourced components
Comes with UK plug
Comes in Breeze Fabric: SheepCloud 95% polyester, 5% spandex
For size guide, please 
click here
SleepPhones come with a 1-year manufacturer's warranty. 9 out of 10 customers would recommend SleepPhones to a friend!
Fantastic
I am more than happy with my lovely new SleepPhones and the company, I ordered the wrong size headband and the company offers to send me out the correct size free of charge. Also so comfortable and easy to wear.
Great!
I have now had three iterations of the wireless sleepphones, and other cheaper versions too. Nothing compares to Acoustic Sheep for comfort and sound quality.
The only small thing that affects my rating of this latest version is the fact that there is no longer a battery indicator on the iPhone.
The previous version had a battery indicator which prompted you to charge it (once a week was usually sufficient for me - this version lasts a wee while longer).
Otherwise, they truly are pyjamas for the ears. The speakers are so flat and soft that you barely notice them, even when sleeping on your side. Other versions claim to be comfortable but inevitably dig into my sensitive ears. Overall, great product that is difficult to beat.
I was going to say "these are rubbish" and send them back, but...
... It appears - after reading the instructions (who DOES that?) prior to asking for an RMA to return them...
... That I was charging them - or ATTEMPTING to charge them - the wrong way up. When they will not charge.
I would have given them 5 stars if they had put a sticker on the headband saying "place charger HERE". Is it unfair to remove one star for my stupidity? You decide.
I'm sure I'm not the only person who has had this problem.
Otherwise they're a great improvement on the previous version. You don't need to tell your iPhone to "forget" the connection every time you want to use them, if my inability to charge them is any guide, they last for SEVERAL nights on a single charge, plus the fact that you don't need to remove the innards to charge them means the wires won't wear.
I wish I had read the instructions - OR HAD A STICKER ON THE HEADBAND !!!! - before I used them.
so much to say …
I bought these to replace earphones, that I use at night, to disguise tinnitus noise. But, I had an awful and serious allergy to the in ear ones so needed an alternative.
I do like them. But …
1) they're fiddly to charge, even with the effortless option. I bought the effortless set after having a real charging struggle with the basic wireless ones. So in total they cost me a lot of money as I bought two pairs plus two sizes of headbands.
2) accessing the charging component and the earphones is annoying, however, with some intelligent rethinking the headband design could be way better. I have ideas …
3) placement of the earphones is hit and miss and once the band is on I can't move the earphone part so if I don't get it right, it's off and on, off and on, with the band until I get it right.
4) I bought the M sized headband based on my measurements, but they kept sliding round so ordered a size S, which kept sliding up and leaving marks on my forehead. Better headband adjustment is needed in order to get a good fit. Oh and my headband didn't wash well. Bobbly after one wash, so that rubbish too.
5) I think that external pockets in the head band with concealed zips, no Velcro (hate the stuff), would be better for the charging component and inside the band two pockets for the earphones, which should be wireless not cabled (its possible with the technology available). This would be much better than the design as is. It would make them more functional.
With headphones and earphones you just pop them on or in and go. With these every single night is a right old faff.
On the positives, the charge lasts all night so no annoying voice waking me to tell me I need to charge. And when I get the placement of the earphone part right the sound quality is acceptable for what I need it for.
So you can see my experience isn't the best. So why 4?
Because I cannot use in earphones any longer and so these are a good alternative but could way better.
I would only recommend them if you cannot wear in or on ear headphones.
SleepPhones Effortless Bluetooth Sleeping Headphones with Wireless Induction Charging
Measure around the forehead, just above the ears, and around the hair in the back to determine head size. If your measurement falls on a size cut off guideline, we recommend that you order the smaller size as there is a bit of stretch in the fleece material.
Extra Small/Small = 51 - 54 cm (UK Hat Size Up to 6 3/4)
Medium (one size fits most) = 55 - 59 cm (UK Hat Size 6 7/8 - 7 3/8)
Extra Large/Large = 60 - 63 cm (UK Hat Size 7 1/2 and up)
We endeavour to despatch orders as quickly as possible. Deliveries usually take 2/3 working days from time of order but can take up to 5 days.
All orders are despatched via a tracked service with a recognised parcel carrier.
Delivery charges:
Orders under £49.99 - £3.95
Orders over £50 - Free
Orders despatched to UK addresses only.